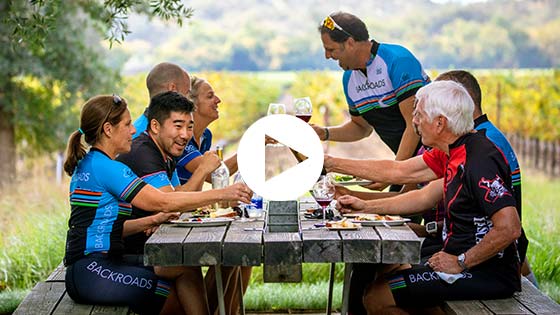 Our Mission
At Backroads, we believe that traveling under your own power and at your own pace opens up an opportunity to connect more meaningfully with the world. Our mission is to provide a travel experience so transformative that you'll never want to travel in any other way. We provide amazing support on meticulously planned itineraries with superb accommodations so you can be totally present enjoying your adventure.
This was our first experience with Backroads and it was wonderful!! Your staff at the office and your group leaders are wonderful—you made it so easy to organize and plan all we needed. Truly a 5 star experience!
Debbie Waltermine - Blountville, TN
We have taken over 30 trips with Backroads and continue to be awed by the excellent job you do hiring trip leaders!
Jeanne Knox – Minneapolis, MN
I now understand why your company is sometimes referred to as a "customer service company masquerading as an adventure travel company." Every detail of the trip was well-considered ahead of time. It made the experience easy, stress-free and fun!
Vera Kowal – Rapid City, SD
The Backroads Advantage
UNRIVALED TRIP PLANNING
Everything we do is purposeful, from the design of our routes and the settings of our hotels to the order of each day's itinerary.
The World's Best Leaders
We're the only active travel company that guarantees three leaders and two vans on over 95% of our trips.
Your Pace, Your Priorities
Every day we offer a choice of expertly designed routes, each with detailed directions, multiple activity levels and options.
The Best Group for You
Whether it's a mix of couples, friends, solo travelers or families, we've got options to accommodate your travel style.
View the 2019 Guest Photo Contest Winners
Enter the 2020 Guest Photo Contest